He threw the pitch and watched it sail toward home. His team was down, and he had been brought in as a relief pitcher. The first batter had struck out. The second got a hit. Now what? Where was the ball? What was going on?
He stumbled back, then caught himself.
"My first baseman was at my side and asking if I was okay. I said, 'I don't know what happened.' I was still looking for the ball," said Kevin Lingerman, senior pitcher for the George Mason University baseball team.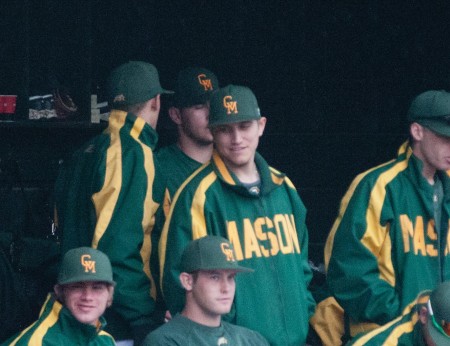 The next time he looked up there was blood everywhere. Lingerman sank to his knees, then to all fours as he tried to piece together what was going on.
Lingerman was still looking for the ball. Trouble was, the ball had found him first.
The batter had hit Lingerman's pitch and returned it at 100 mph into his face.
His face was broken in five places, completely smashing his nose, orbital bone and the top of his jaw.
"The day it happened we were getting beat pretty good," said Mick Foley, the sophomore first baseman who was first to Lingerman's side. "It was already silent in the park because we were getting killed. Then Lingerman got hit it and it was a whole different kind of silence."
Foley had watched the ball fly straight towards Lingerman and heard a loud snap he thought was the ball making contact with the pitcher's glove.
But then he saw the ball rolling off the field and towards the third base dugout and noticed that the batter had slowed to a crawl in his dash to first base, and he realized that the loud snap  had actually been the crack of Lingerman's skull.
Foley ran to Lingerman's side as he lay sprawled on his back.
"There was blood all over," Foley said. "I couldn't really see if his nose was broken. All I saw was blood."
A lifelong sports fan, Foley had seen baseball players on television take line drives to the face before, but this was the first time that he or anyone else on the team had seen it in real life.
He knew that such an injury could result in blindness or brain swelling, even death.
He also knew that the metal bats used in college games made the situation all the more dangerous.
An article published in 2008 by Northeast Booster eerily foreshadowed Lingerman's run-in with the baseball.
According to the article, "Lingerman, who plays third base, shortstop and pitcher, also will have to face hitters with lively metal bats. That shouldn't be too much of a problem. He was 20-0 in four years on the mound at Calvert Hall."
For twenty minutes, the players, coaches and fans were consumed by anxiety as the trainers mopped up the blood from Lingerman's wounds while they waited for an ambulance. He had lost nearly a pint of blood by the time he got to the hospital.
"The pain was excruciating. It was terrible," Lingerman said. "My trainer was like, 'It's okay. You can cry.'"
But he didn't. Throughout the whole ordeal, he didn't cry or pass out, despite the crippling pain.
"The only thing I can really say is that he is a remarkable young man. Trust me when I tell you I don't say this lightly. Not only is he my hero, he is the biggest reason that keeps me moving everyday," said Patty Lingerman, Kevin's mother. "If it wasn't for him and his positive attitude, I would've been like, 'To hell with this.' People talk about miracles, but all I can say is that you don't know my son's story."
As the wailing sirens pulled up, Lingerman rose to his feet and walked off the field toward the ambulance, a hopeful sign for everyone on the field.
In Baltimore, Lingerman's father had been watching a live stream of the game and had lost volume on the screen just after Lingerman got hit.
He turned to his wife and told her something bad had happened.
Suddenly the volume returned on the computer to announce that a relief pitcher was coming in for Lingerman.
Then the phone rang.
"I just remember [the caller] saying 'I have Kevin at the hospital.' I could hear Kevin in the background saying, 'Watch out, she's going to get upset. Don't tell her too much,'" Mrs. Lingerman said.
"When they came in, I had a pad over my face," Lingerman said. "When they took it off, my mom cried and my dad just stared at me in shock."
For the next two weeks, progress was slow. If the ball had hit him just one or two inches to the left or right, Lingerman would've been killed. The doctors decided not to operate on his face and let the bones reset themselves like twigs.
Plastic surgeons had to reconstruct his nose, which had been completely destroyed by the ball.
"My sinuses were completely filled with blood. I couldn't breathe for a few weeks," Lingerman said.
However, the worst damage was to his right eye, which was nearly sealed shut with swelling. When he finally was able to open it, Lingerman had no vision.
After two days in the hospital, Lingerman returned to his dorm room with his mother there to take care of him.
On the third day, he woke up and opened his eyes in relief. He had regained sight in his right eye.
Even though he was able to see again, the pressure behind his eye was still high, and he was put on bed rest.
The possibility of blindness was still a threat.
"The week after it happened was the worst," Lingerman said.
Lingerman has retained his sight but suffers from permanent damage to his iris and cornea.
A few weeks after he was injured, the batter who hit the ball that crushed Lingerman's face sent him a message on Facebook and apologized.
"I told him it was no problem. He didn't do it on purpose," Lingerman said. "He told me that when he hit the ball, he started walking toward the mound. He thought he killed me. They had to take him out of the game."
With his face crushed, Lingerman was down, but he wasn't out for the count. Baseball is, and always had been, his sustaining life force.
His father, Nemo Lingerman, played in the Minnesota Twins' minor league system and instilled a love of baseball in his son at an early age.
Getting hit in the face with a line drive wasn't the first hurdle in Lingerman's career. His trainer, Debbie Coronado ,often tells him that he's the luckiest for being the unluckiest in the world.
He has certainly beaten the odds.
"This is one in millions," Lingerman said. "The odds of this happening are less than winning the lottery. When the ball comes back, it's like blink of the eye. Reflexes take over."
Lingerman has been struggling against the odds since he was 6 years old, when he was first diagnosed with a rare case of bone cancer called Ewing's sarcoma that affects only 250 children in the United States per year.
"As a parent, I can't begin to tell you how devastating that is.," Mrs. Lingerman said. "The doctors did not give us good news. They didn't expect him to make it."
But Lingerman wasn't about to give up.
"He took his little hands and put them on my face and said, 'It's okay, Mommy. I'm not going to die.' That's the part that you can't explain to people. It's devastating," Mrs. Lingerman said.
Lingerman underwent chemotherapy treatments for a year, pumping poisons through his young body to rid him of the cancerous tumors.
Ewing's sarcoma usually strikes pubescent children in the long bones in their legs and arms, but Lingerman's tumors were intertwined in his ribs.
To combat the cancer, doctors removed part of Lingerman's lung and parts of his fourth, fifth and sixth rib bones.
For a few years, he returned to health and lived his life as a normal little boy, falling even deeper in love with America's favorite pastime.
But his struggles were far from over.
When he was 11, the cancer returned. After six months of chemo he lost his hair, but he didn't lose his drive and continued to play baseball  throughout the sixth grade.
"I stayed in shape and stayed off the couch,"Lingerman said. "I'd get sick on the field from the chemo, but the other boys were too young to understand."
But this time, Lingerman understood. In his second battle with cancer, he became more self-aware and angry, not understanding why he was being singled out.
"That's the part that's hard to explain to people," Mrs. Lingerman said. "He's been through hell and back, and psychologically, it's made an impact. When he gets down, only the family sees that. He won't let anybody on the outside know he's down."
Eventually, the doctors elected to remove the rest of the three ribs on his right side and a quarter of his lung.
It took two years for Lingerman to return to playing full time. He had always played third, but he liked to pitch more.
Once again, the odds were stacked against him.
At 5 feet 11 inches, he is below average height for a pitcher, and with three of his ribs and a piece of his lung missing, the odds of him being able to throw with speed and precision were not promising.
"I threw 90 mph my first time during my senior year of high school. No one had any idea how it was possible," Lingerman said.
Had the doctors' predictions been true, Lingerman would've been crippled by scoliosis, if not dead after his bouts with cancer.
Without his ribs for support, the doctors couldn't understand how his decelerator muscles, which are imperative for pitchers, were strong enough to throw the ball at such high speeds.
Decelerator muscles allow the fast-moving body parts, like a pitcher's arm, to slow, similar to brakes on a car.
Lingerman's medical woes had not yet ended. Once again, despite the odds, Lingerman excelled.
He was slowed once again after a spinal herniation in high school required surgery.
After being recruited by Mason, Lingerman pitched successfully his freshman year, but by sophomore year, trouble was back again. Like many other pitchers, his arm was wearing, and he had to have Tommy John surgery to repair his ulnar collateral ligament.
Nerve damage, possibly from the years of chemo, combined with faulty surgery resulted in two unsuccessful surgiers.
After coming off not one but three Tommy John surgeries, Lingerman was finally returning to full health and playing ball.
He pitched his first return game successfully at NC State and was getting back into the swing of things as he stepped onto the mound on March 3 to try and recover some runs from Bryant.
"He had finally gotten velocity and speed back up and said to me, 'Mom, this has gotta be my year.' Then he gets hit in the face," Mrs. Lingerman said.
A month and a half after this harrowng incident, Lingerman has only a faint scar that stretches from the inner corner of his eye to right above his eyebrow. Shocking the doctors once again, he's returned to full health and is now training to play in a game in the next few weeks.
"I still want to play," Lingerman said. "When I get back out on the mound, I might be a little shaky, but baseball is what's gotten me here. It's gotten me through a lot of stuff. I'm one of the first people in my family to go to college. Baseball has allowed me to do things that I never would've been able to."
His mother is terrified for Lingerman to step up on the mound again but knows that, while baseball has been the cause of many of his injuries, it's also been the driving force that has motivated him through his difficult life.
"He's very upbeat. I'm very angry. Not just that he's gonethrough cancer twice. He's had back surgery, Tommy John, and then to get hit in the face like that. He just can't catch a break. I don't want him to get back on a mound, even though at the same time I do. But that's Kevin," Mrs. Lingerman said.
Lingerman speaks easily about his injuries, without a trace of bitterness about beating cancer twice, spending countless hours in the hospital or battling through eight surgeries. He even grins as he recounts the ridiculous series of events he's suffered through.
A red-shirt senior, Lingerman still has another year left of school before he's out in the real world, but he's already dreaming of getting drafted to the big leagues.
If that falls through, he has plans to coach in Division I. But if history repeats itself, luck just may be on his side.