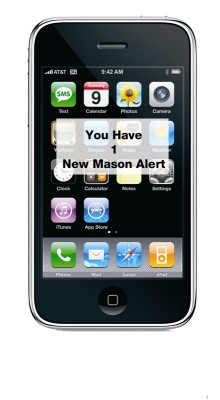 The MasonAlert system has come under scrutiny by the Mason community after people received texts and emails regarding recent emergency situations on campus about an hour after the incidents were first reported.
When a gas leak occurred next to Lecture Hall on Oct. 6 police received the call for the gas main break at 11:09 a.m. but some people did not receive a MasonAlert until almost an hour later.
"I got the text at 12:02…" said Kim Largen, an assistant professor with the Department of Environmental Science and Policy at Mason. Largen was lecturing at Krug Hall, near Lecture Hall, and said she was evacuated from the building at about 11:18 a.m. by a person she believes was a fireman.
The clarity of the MasonAlert messages has also come into question. When Student Union Building II was evacuated after a hazmat incident Oct. 19, an initial MasonAlert stated that there was a "police investigation at Student Union" and requested that people stay away from "Student Union." There are two Student Union buildings at GMU, I and II, and about 20 minutes after the initial notice another MasonAlert clarified that there was a hazmat incident at Student Union II.
Largen said that people were confused during the gas leak incident by the wording of the text message. According to Largen, the text listed buildings near the gas leak and said "evacuate the area," but it was unclear what area was affected by the evacuation notice.
"That caused a lot of confusion here at Krug," said Largen, "We had a lot of students wonder 'does that include Krug; what does that include?'"
Officials in charge of the MasonAlert system said they are aware of some of the problems with the system. David Farris, director of emergency preparedness and response at Mason, said that making notifications faster is an ongoing issue with emergency communications. However, he said that people who are immediately in harm's way will already have help before a notification goes out.
"As we identify those issues, we work to correct them," said Farris.
"The priorities are…help those people who are in harm's way, and then conduct a notification with the expectation that it is going to protect everybody else who is not immediately impacted by the emergency," Farris said.
MasonAlert is intended for informational purposes, and those who would be affected by an immediate threat would have the benefit of first responders on the scene, such as the person who evacuated Largen from her building, to ensure their safety, Farris said.
At the same time, Farris said, people in the Mason community need to be educated on how to respond to an emergency situation.
"I would encourage everyone who is registered for the MasonAlert system to not only follow directions provided by MasonAlert, but more importantly be prepared to respond to an emergency if they experience that emergency," he said.
MasonAlert is one method to stay informed, but Farris recommends that people also take charge of their own safety by reading the emergency preparedness plans on the Environmental Health and Safety Office website: http://ehs.gmu.edu/guides_EP.html.
"Communication by nature cannot occur simultaneously," Farris said. "The time from the event occurring and having enough verified information to make a recommendation on what action can be taken, there is a lag there."
Farris also added that police have administrator access to the MasonAlert system so that they may issue an alert in case of an immediate threat. However, he said the primary focus for police would be to respond to an emergency and that is why there are procedures in place to ensure that his office is notified of an emergency so that they may issue a MasonAlert.
There are also several other entities at Mason who have administrative access to the MasonAlert system, but it is primarily used by police and his office and some key officials of the university administration, Farris said.
"In an emergency we don't have perfect information," said Farris. He said he has to make a determination to send out information as soon as possible, as an emergency develops, and tries to provide the simplest information without making it confusing. To that end, he said he is constantly trying to get feedback and improve the system.
He said that he also holds focus groups with students, the GMU administration, and Student Government with the intent to make the system better. Any other users who wish to provide feedback can email alert@gmu.edu.
"MasonAlert is really the backbone of our emergency notification system," Farris said. He said people should "follow the guidance of the MasonAlert with the understanding that we are doing everything that we possibly can to make sure those alerts are timely, contain the right information, but knowing that they are not instantaneous and that we are first and foremost going to make sure we get the right people on scene to respond to an emergency."
(Yasmin Tadjdeh, Senior News Editor for Student Life & Digest for Connect2Mason contributed to this report)