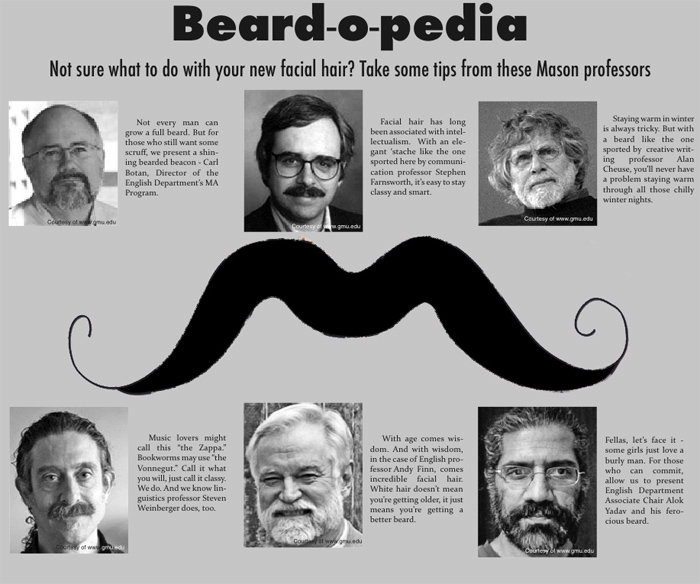 A recent study conducted by the makers of Schick Hydro razors and the research firm Sperling's Best Places ranked George Mason University the 23rd cleanest-shaven school in the U.S.
What is No Shave
November, anyway?
It is known as No Shave November and Movember, but no matter what you call it, the event has become a cultural phenomenon. It started in 2003 as "Movember," short for "moustache November," in Melbourne, Australia as a way to raise money for prostate cancer research.
What started as a small movement among friends quickly became an international event. Over the last seven years, the occasoin has grown. The Washington Post estimates the month-long event brought over $40 million for prostate cancer research last year.
Men aren't the only ones allowed to participate. Women are encouraged to forgo shaving their legs during November. So while most students won't find themselves sporting the same luxurious facial hair as Iron & Wine's Sam Beam in the month's remaining weeks, most students would love an excuse to put down the razor.
For more information on No Shave November, including ways to donate to prostate cancer research, visit us.movember.com.
Among the top five cleanest shaven colleges were Virginia schools James Madison University and University of Virginia. On the other end of the spectrum, the neighboring American University and Georgetown University were both placed in the bottom five.
According to a press release from Schick, researchers collected data through first-hand student observations.
"We sent researchers onto campuses across America to observe guys' shaving habits," said Bert Sperling, president of Sperling's Best Places. "The one trend that stuck out the most was that guys at southern schools preferred the clean shaven look, while guys at Northeast-city schools tended to sport more scruff."
Also according to Schick, a recent national research poll conducted by StrategyOne projected that guys who shave regularly have twice as much sex, are happier, more outgoing, more social and more likely to report more attractive significant others.
In lieu of these new discoveries, Schick is seeing this as an opportunity to promote their products.
"It's clear that a lot of guys avoid shaving regularly, and they might be developing bad shave habits on campus," said Dan Kinto, senior brand manager for Schick.
In efforts to increase awareness about the benefits of shaving regularly, Schick is also staging hydroventions, where students can submit pictures of friends with scruff on their faces to the Schick Hydro Facebook page. Schick will host these interventions for four lucky winners, who will also win a spring break trip for two.
Whether Mason students are shaving daily or weekly, at least they're having twice as much sex as the guys at Georgetown.