The first thing one learns about Best Buddies International is that it's not just another nonprofit, nor is it just another student organization. For buddies Pete Scamparia, a sophomore, and Eesha Minocha, a freshman, and for many others, it represents hope and a home in a generally unwelcoming world.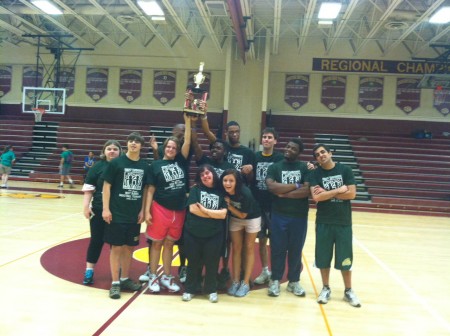 Best Buddies International is a volunteer-run organization that helps create opportunities for people with intellectual and developmental disabilities. But  according to Scamparia, it's about more than finding a place, it's "about finding friends, where you can be free from bullying or prejudice."
Their eyes lit up when they heard their stories would be in the campus newspaper. Scamparia and Minocha talked extensively about their buddies in the program. Minocha talked about how she often goes shopping or to see a movie with her buddy Alexa Rivas, a senior studying psychology and pre-law, also President of the Best Buddies Club. Even something as simple as getting lunch becomes the excitement of the day. On Tuesday, Scamparta engaged in a three-legged race with his buddy, and though he didn't win, the overall experience was not one he'll soon to forget. Minocha speaks just as fondly of a whipped cream-eating contest and is very excited for the upcoming Special Olympics. She'll participate in track, basketball and soccer; it will be her third year.
As they leave to go get dinner (macaroni and cheese at Boston Market, one of Minocha favorites), it's clear the program doesn't just help them make friends with the Best Buddies crew  but also with each other. More stories came in as word about the article spread. Alissa Doerner, a graduate student in Mason's special education program, has been working with Mason's Best Buddies since fall 2011.
"The support and enthusiasm of the individuals involved including buddies, college buddies and chapter leaders is highly apparent on campus, in activities and even through social media outlets, such as Facebook," Doerner said. "I do not see my time spent at Best Buddies as filling a volunteer role; I see it as an opportunity to participate in something that has had a profound impact on my life and hopefully on others. All of the activities I have participated in, from bowling to a bake sale to support the organization Spread the Word to End the Word have all been enriching ones. Making friends, being involved on campus, supporting an organization that is dedicated to a cause all while having fun—what could be a better college experience than that?"
Scamparia seemed to agree. "It's really just a chance to make new friends, something everyone should do, expand their social group," he said.
Tommy Miossi, buddy director for GMU Best Buddies and fourth-year student in the Mason LIFE program, fondly remembers going to a Washington Nationals game with his buddy, Katie Bredholt.
Kamran Khan, a former student in Best Buddies, is now working with the Mason LIFE program, which helps prepare students with disabilities for life in college, to help expand their programs and reach more students. He's very excited for the Relay for Life event  Saturday and a corn hole tournament Sunday, he also said that the upcoming week is Autism Awareness Week and is a great opportunity to get more involved with Mason LIFE and Best Buddies.
"We have book club, pop dance, American sign language and a bunch of other activities," he said, "We're also looking for mentors for next year."
Senior psychology major Masha Soldatenkova, was glad word was getting around about the program.
"It's a great opportunity for everyone involved and definitely a lot of fun. I will stay with the club as an officer again next year, and I really look forward to seeing it grow."
It isn't always in easy in Best Buddies. Sometimes lessons come hard. The group mourned the loss of one of their own, Bridget Healy, earlier this year. The world is often daunting, especially with a disability, but Pete and his friends aren't letting that stop them from enjoying life.
"We're human beings," Khansaid. "We should just be treated like such."