A Greek American, Angela Panayotopulos was inspired by her cultural roots and began piecing together a story about war in Greece while enrolled in a creative writing course at Mason.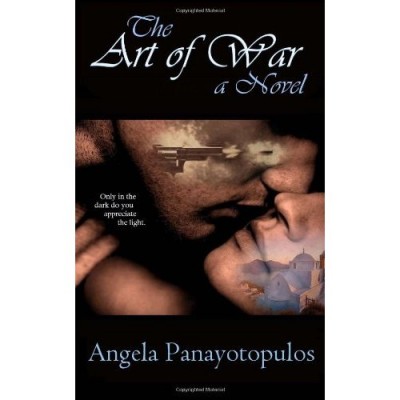 She became so immersed in the topic that, during the course, the brief story became so convoluted with information that her peers began suggesting that she turn her work into a novel.
"There was just so much going on," Panayotopulos said. "Most of the class said, 'Whoa! This isn't a story; it should be a book.' So I said, 'Okay, then let it be a book.'"
Born to parents who are 100 percent Greek, Panayotopulos always got a blend of Greece and American culture growing up. With that unique background, she became very inquisitive about the world around her and developed a curiosity for all types of people.
"[Mason] was my first choice because of the diversity," Panayotopulos said. "You can really live out your cultural diversity there."
Early in her college experience, Panayotopulos truly began to embrace her Greek background. She and a friend started the Greek Club as a way to teach people about Greek culture and dance.
"I always happy to be a Greek American," Panayotopulos said. "But, at Mason, I was able to celebrate it more."
After earning her undergraduate degree in English, Panayotopulos returned to Mason to achieve a Master's degree in Creative Writing. Through that time, she worked to produce her novel The Art of War.
Despite her familiarity with the American lifestyle, Panayotopulos opted to pursue a more mysterious focus and immersed herself into Greek history.
"The more I started digging into it, the more fascinated I became," Panayotopulos said.
As the novel progressed, it became a story about a life than can at once be Heaven and Hell. It is set on the island of Mythaki where three ethnicities – a Nazi discriminated for his principles, an artist who is haunted by her craft and a rebel soldier who corrupts a village with his madness – and is a story about the power of love and brutality of war.
"Obviously, war in Greece is something that has been written about before," Panayotopulos said. "But I always feel like you can put a new spin on old material."
Panayotopulos sets herself apart by interweaving an array of characters with varying backgrounds who bond over a common fear: World War II.
"Some of the characters are inspired by people I talked to," Panayotopulos said. "Some of the other characters are inspired by my friends. I always feel closer to my characters if I base them off of real people."
Her Greek-themed novel draws from the memories of real World War II survivors while integrating themes from Homer's The Iliad and The Odyssey, but was intended for the American audience.
Panayotopulos, who moved to Greece with her family two years ago, hopes to translate her work into Greek in order to target the Greek population. She is in the process of setting up a digital book tour and continues to take the lessons of diversity she learned from Mason and apply them to her life overseas.
"Being a Greek American in America is different than being a Greek American living in Greece," Panayotopulos said. "No matter what, though, you still have this cultural imprint that sticks with you wherever you go."