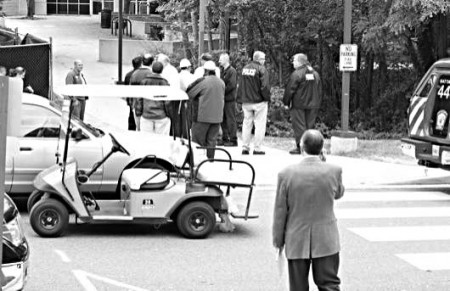 Student Union Building II was evacuated Tuesday morning due to a hazardous material scare in the building's mailroom.
Mailroom employees received and opened a suspicious envelope containing "a white powdery substance" which hazmat officials have now determined to be an artificial sweetener, university police and school officials said.
Shortly after 10 a.m., mailroom employees discovered a white envelope addressed to "George Mason University" with no stamp on it. University Press Secretary Dan Walsch said that upon opening the envelope, employees found a "white powdery substance."
The employees then contacted University Police who then called in the local hazmat.
Hazmat officials took a sample of the substance and conducted on- and off-site tests on the substance to see if it was dangerous. The Mason community was alerted to the situation via the text and e-mail notification system, Mason Alert.
At 12:04 p.m., a notice was sent saying the incident had been resolved and that "it is safe to return to normal operations."
According to Walsch, University Police will be conducting an internal investigation to determine who is responsible for the incident.
"Whether they're able to do that or not remains to be seen," said Walsch.