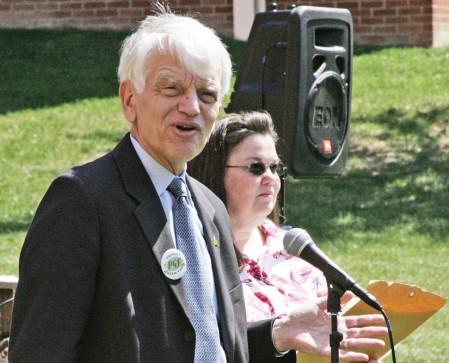 Broadside recently sat down with George Mason University President Alan Merten to talk about several different topics including his job and the extension he was recently awarded by the Board of Visitors.
Q: What exactly does your job entail?
A: I have overall responsibility for the $900 million a year budget, personal responsibility for 33,000 students, 6,000 faculty and staff and multiple campuses. I work on and off campus to support the community around Mason. I am pretty much responsible for everything here. The good, the bad and the ugly.
Q: How long have you been at Mason, and how would you describe your experiences?
A: I started here July 1, 1996. What we have been able to accomplish has exceeded my expectations. What we have done and what we have become known for is incredible. It has been very productive.
Q: What is your favorite aspect of being the president of a university?
A: To see others succeed. I feel I am doing something that helps others succeed and brings attention to the grandiose things that people have accomplished. When you are a professor, you get something out of personally accomplishing things. When you become administrative staff, you shift from doing things to helping others accomplish things. And that is what I do here.
Q: What goals do you have for the next few years?
A: Over the years, we have created intellectual infrastructure, with faculty, staff, students, organizational infrastructure, and of course, physical infrastructure with new buildings. We need to continue to increase the infrastructure and leverage it. We are moving from a heavy emphasis on building to using our infrastructure to create more for the community and world.
Q: What problems do you foresee being an issue in the next few years?
A: One of the most fundamental issues is size. We continue to grow in size and quality of the student body. The demand for Mason is also increasing. If the Virginia commonwealth is not willing to allow us to keep growing, we will not grow. It is a question of whether our political leaders are willing to pay for growth in higher education. Another aspect of it is that Mason is a great teaching and research institution. We have people who can do it. It is simply a question of financial support.
Q: Do you have any thoughts on the extension of your contract with the university?
A: When my wife and I came here, we expected to be here a while. After the first few years, we got inquiries to go to other places to do similar things, and we realized we liked it here. The current contract was to end June 30, 2011, and the Board of Visitors decided to extend it to 2013. What happens before, at and after will be decided later. But the best is what is to come. We have opened a 148 room hotel and created 157 townhouses in Masonvale. We are not stopping for anything.
Q: Are there any plans for a varsity football team at Mason?
A: We run the university in a business-like fashion. Things have to make sense financially, and football is a bad idea financially. The last time we looked at it, we would have needed a $15 million gift from a private donor. We would also have to charge students $500 a semester in order to support the program, and because of the requirements of Title 9, we would have had to drop a men's sport as well. There are about 20 universities in the country that make money or break even with their football programs. All the rest lose money. It just does not make financial sense to have a football team.