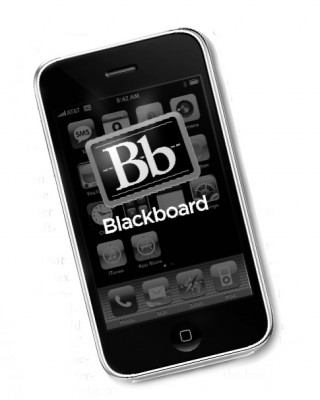 Coming soon to a smart phone near you: Blackboard Mobile.
The app will be available next semester, said Benjamin Ness, administrator of George Mason University's Blackboard Learning Management System, emphasizing that nothing is set in stone.
According to Blackboard's corporate website, Blackboard Mobile will give students and faculty "everything they need right on the mobile devices they already rely on."
Although many students and professors are unaware of Blackboard Mobile, they are excited when the possibility is mentioned.
"I am not aware of the app," said Anthony Hoefer, director of the University Scholars Program at Mason, who currently does not own a smart phone. "If the app can help me take attendance, it would be ideal."
Hoefer also said he recently struggled with a scanner to obtain a clear, readable PDF and that an existing app can enable him to photograph a page and immediately convert it into a PDF file. When Blackboard Mobile is released, professors can take pictures with their phone and instantly upload them to Blackboard.
Students also seem enthusiastic about the prospect of having greater access to the learning software.
"I had no idea, but that would be awesome," said Alex Murdocca, a sophomore government and international politics major. "Blackboard would be easy to access on my phone."
"With the app, you can access Blackboard even if the Internet is down," said Megan Speight, a sophomore communication major.
"I will definitely use it," said Will McConville, a senior government and international politics major. "I don't access the computer all the time, but I check my phone at least 100 times a day, easily."
Brittany Wilson, a senior accounting major, became aware of Blackboard Mobile when looking for a way to access course content faster.
"I went into the app store with my iPhone and found Blackboard Mobile accidentally," Wilson said. "I tried to download it and found it was incompatible with my operating system firmware."
Still, Wilson is optimistic that Blackboard Mobile will provide instant access to course material when the laptop is out of reach.
The app will only be available to Sprint users.