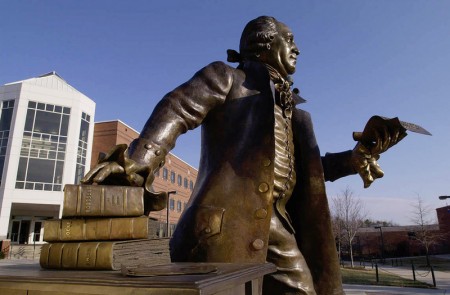 George Mason University was included in Kiplinger's Personal Finance magazine's national top 100 "Best Values in Public Colleges" for 2010-2011. Mason rose three spots from last year, ranking 61st for in-state students and 90th for out-of-state students.
"We were just gratified to be recognized and we take maintaining the quality of our institution very seriously," said Dan Walsch, university spokesman. "We try to be sensitive to keeping our institution as accessible as possible, while at the same time maintaining the highest level of quality that we can."
According to the magazine, rankings are determined based on academic quality and affordability. Kiplinger's starts by narrowing down a list of more than 500 public schools based on academic criterion such as SAT and ACT scores, admission and retention rates, student-faculty ratios, and four and six-year graduation rates.
Schools are then ranked on cost and financial aid. According to the magazine, academic quality carries more weight than costs.
According to Kiplinger's, Mason has a 63 percent admission rate, a 16-1 student faculty ratio and an 85 percent freshman retention rate. The total cost for in-state students is $17,804 and $34,568 for out-of-state students, which includes tuition, fees, room and board and book expenses.
The top three schools on the list were The University of North Carolina at Chapel Hill, The University of Florida and the University of Virginia, respectively. Other Virginia schools that made the list were The College of William and Mary in fourth place, James Madison University in 19th, Virginia Tech in 24th and University of Mary Washington which ranked 26th.