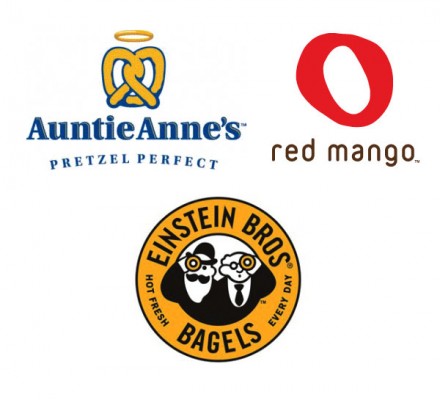 George Mason University's ever-expanding list of restaurants is about to get bigger this fall. Auntie Anne's Pretzels, Red Mango and Einstein Bros. Bagels will all be taking their place alongside Southside, Pilot House and the Johnson Center restaurants.
"These restaurants all offer something new and unique," said Denise Ammaccapane, Sodexo's resident district manager.
"People love Auntie Anne's," said Ebonie Gibbs, a freshman government and international politics major. "They have really good strawberry lemonade."
Several factors are considered when determining if a new restaurant is needed — space availability, what students are looking for and health options all play a role.
"Red Mango is wonderful because it's gluten-free, kosher, fat free and all the toppings are free. There's nothing like it on campus," Ammaccapane said.
Auntie Anne's Pretzels and Red Mango will both occupy the lower level of the Tidewater building located just beside Southside. Einstein Bros. Bagels will have two locations — one in the Nguyen Engineering building and the other opening in the new University Hall.
"Those buildings are so far removed from everything and have very little options in that area so it was a natural fit," said Ammaccapane.
"The spacing is really good," said Samantha Samuels, a freshman biology major. "I was thinking about taking a class in the Engineering Building just for the Einstein location."
No exact date has been cemented for the opening of each restaurant, but students should expect to see them at the start of the fall semester. The hours of operation have yet to be specified.
"We're tinkering around with the hours currently, asking students and just figuring out what works best," Ammaccapane said. "Right now 11 [a.m.] to 11 [p.m.] seems to have some potential."
In all these locations, options are limited due to space restrictions.
"None of the spaces available have ventilation so we can't use stoves or grills, which is why Einstein's is so wonderful, fresh salads and sandwiches," Ammaccapanesaid.
"It'll be nice not to see a new fast food style restaurant [and] instead having something healthy," said Tavia Adams, an undeclared freshman.
As is the case in most circumstances, the dining facilities will accept cash, credit card, Mason money and most likely student meal plans, Ammaccapane said.
Despite the many additions coming to Mason's menu, there will likely be more new restaurants in the future.
"We did a master plan a few years ago, and it's always just a matter of space availability and what the students are looking for," Ammaccapane said.