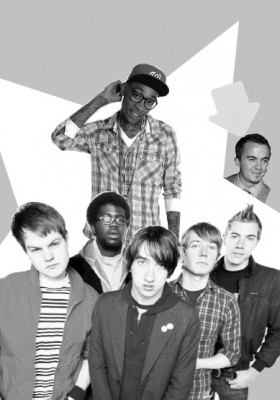 For the first time, Program Board is brining two separate concerts by musical acts that hail from two separate genres for this year's 31st annual Mason Day celebration. Best-known for their 2005 hit song "Hey There Delilah," the Plain White T's will headline this year's Mason Day celebration on April 29 in Lot L, while rapper Wiz Khalifa will play an "After Mason Day" concert on May 4 at the Patriot Center. Program Board also just announced that You Hang Up, a pop rock band from Phoenix, Ariz., featuring "Malcolm in the Middle's" Frankie Muniz on drums will open for Plain White T's.
"If you like the music then you should come hear it, but even if you don't like the music for Mason Day, there's a ton of other things to enjoy like always," said Michelle Davis assistant director of programming for the Office of Student Involvement.
The Plain White T's concert is free for students, faculty and staff with a valid Mason ID, or $10 for those without a Mason ID. Tickets for the Wiz Khalifa concert go on sale Monday, April 4 and are only available to Mason students, faculty and staff. General admission floor tickets are $20 for students and $35 for guests, faculty and staff, while riser seats are available for $10 for students and $25 for guests, faculty and staff. Students may purchase one student ticket and up to two guest tickets. Tickets are on sale at the Patriot Center Box Office only.