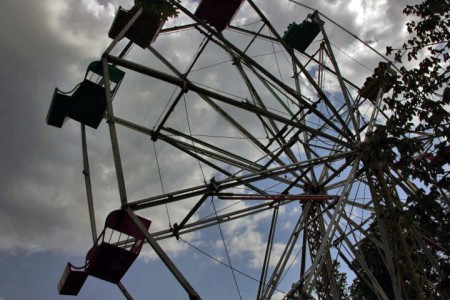 With the arrival of spring comes George Mason University's highly anticipated Mason Week celebration. The week is a series of entertainment events for students, leading up to the annual Mason Day concert.
Mason Week provides an outlet for students to let loose and have fun while enjoying the spring weather. Some of the events this year include free ice cream, a Tuesday Jams show, free airbrush tote bags, the comedy show featuring Nick Thune and a Kings Dominion trip with discount tickets.
"Students are always excited just to get away from classes," said Celia Cannon, president of Program Board. "There will be giveaways, free food, it's all so worth it. I think the Comedy Show will be the big standout [event]."
With the exception of the Wiz Khalifa concert, all of the week-long events, including entry into Mason Day, are free with a valid Mason photo ID.
Program Board worked hard to plan the multitude of events and often collaborated with other university organizations to bring more variety to the Mason Week celebration.
"We usually don't have a spring concert," said Cannon. "We worked with University Life and the Office of Student Involvement [to set up the Wiz Khalifa concert]."
Last year, turnout at Mason Day was huge as students lined up to participate in theme rides, games and activities with a chance to win free prizes. The week-long events and celebratory day continue to make an impact on the student body.
"Mason Day is the oldest standing Mason tradition," said Cannon. "It's older than commencement."
To make up for long lines last year, Program Board plans to incorporate more vendors so that students are only left waiting for a short amount of time. Pop band Cobra Starship performed at the end of 2010 Mason Day, while band Plain White T's will headline this year.
Looking into the future, Program Board hopes to continue Mason Day and Mason Week's popularity with fun, innovative entertainment ideas.
"We are building and getting bigger and better every year," said Cannon.