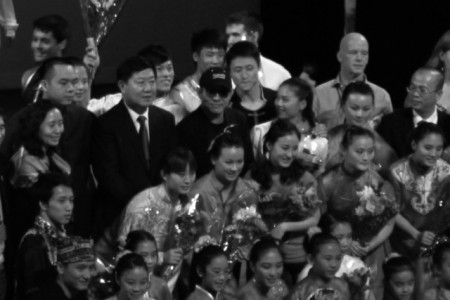 George Mason University's Center for the Arts played host to the World Champion Wushu Kungfu Show on Aug. 14, where over 20 of the world's best Wushu kungfu athletes shared a stage for the first time. The event gained much attention due in part to the attendance of movie star and kungfu master Jet Li. Although Li was not a part of the actual performance, the international celebrity topped off a collection of guests who spoke to the event's humanitarian intentions at the show's opening.
The athletes were invited to perform for the United Nations in New York City by United Nations Secretary-General Ban Ki-moon — the performance at Mason was an impromptu stop along the way. Because of the United States' infatuation with the unofficial national sport of the People's Republic of China, higher-ups saw the shared interest as a great relationship-building opportunity between the two pseudo-opposing superpowers.
Li is not new to humanitarian efforts. He is a philanthropic ambassador of the Red Cross Society of China and started his own non-profit, non-governmental organization in 2007 called the One Foundation, which provides international disaster relief and works to raise awareness on the importance of philanthropy.
Li has also striven to garner worldwide recognition of Wushu through his movies. Kungfu epics like "Hero" and "Fearless" display the religious and philosophical sides of the martial art, stressing that kungfu is not just a sport but a way of life.
Despite taking place in northern Virginia, it was clear that many D.C. residents made the trip over to Mason for the inspiring event. Staying true to its roots, the show was hosted in Mandarin while providing English translations.