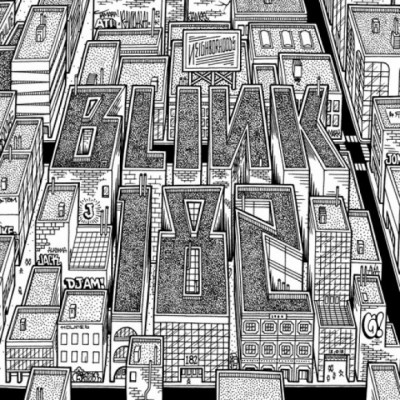 Blink-182 was one of those bands that helped pave the way for where my musical interests would go. They opened the flood gates and exposed to me bands like New Found Glory, NOFX, AFI and the countless others. When I pushed play on Blink's new album, "Neighborhoods," I knew the band that helped shape me was no more — but that doesn't mean the one that showed up in their place is terrible.
When the band members parted ways in 2004, my heart sank. You could literally hear the melancholy on their last single "Not Now." Since that time we've had two albums from the Tom DeLonge lead Angels & Airwaves, as well as one album from Mark Hoppus and Travis Barker's +44. I'm a fan of both bands for separate reasons, which is probably why I don't hate what they've put out since teaming back up.
This isn't Blink-182 anymore; this is +44 with A&A doing a collaboration. DeLonge's voice is still ghostly and carries the echo that has become synonymous with A&A. The music is edgier and more erratic, which was all over +44's album. Just listen to the first single, "Up All Night." You'll hear exactly what I'm talking about and that's pretty much how it goes for the rest of the record.
You're not going to find any songs like "All The Small Things" or "Dammit" here. But I get it. These aren't the same guys they were ten years ago when I was an angst-ridden teen jamming out to them. Likewise, I'm also not that same kid anymore. People change, they grow up. But as fans we're so reluctant to change. I feel like if you just put those 16-year-old-self expectations away and just listen to the album, you're going to realize that Blink isn't making music for kids anymore. They're making it for the kids who grew up with them. They're making music for everyone who's just as lost, late in life as they are themselves.
As I scroll through my iTunes, I realize that out of all the bands I grew up with, only about five still make music and only two of them still make good music. I was so nervous and excited when Blink finally announced their new album, and as I listen to it for the fourth time, my nerves have all but dissipated. All I'm left with now is excitement. I hope this is just the first in a line of new albums from my very first punk rock heroes. Long live Blink-182.
Grade: B+
Spotlight tracks: Up All Night, Heart's All Gone, Kaleidoscope