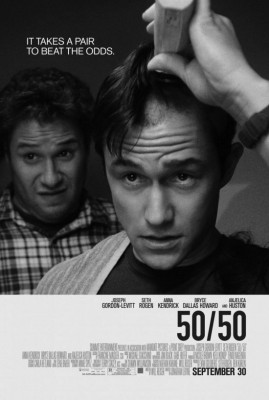 Anyone who read my review of "Abduction" last week knows that I absolutely loved the movie "Drive."
I thought it was well-written, did an amazing amount with very little and it just seemed to buck the norm that had become the Hollywood standard of the action film.
In much the same way "50/50" takes the "dramady" genre and kind of turns it on its head.
I'll let you guys know right up front though that I'm torn between "Drive" and "50/50" for my favorite film of the year thus far.
Starring Joseph Gordon-Levitt and Seth Rogen, who turns in a rather reeled-in performance considering what he is typically known for, the movie shows what happens when JGL's character learns he has cancer and has a 50/50 shot of surviving.
The thing about this movie is that it's genuinely funny but never reaches for laughs.
Even more impressive though is just how genuine the entire thing feels.
You truly feel like these two people have been close friends for a long time and that Seth Rogen's character is very invested in his friend's well-being.
Some of my favorite bits of the film, however, revolve around the relationship between JGL and his mother played by the always- amazing Angelica Huston ("The Addams Family").
Maybe it's because all I could think the whole time was, "This is exactly how my mother would react."
But again, that just further illustrates this movie's strength. Never once did I question the rationality of the film or the characters within it, even when having cancer is used as a tool to get laid.
This is the kind of film that, if you allow yourself to get immersed in it, will have you finding yourself with a tear or two (I'm trying to save my masculinity here) and then before they've even had time to dry, you're already laughing again.
If not at next years Oscars then certainly by the next one, Joseph Gordon-Levitt will undoubtedly win an award for best male performance.
And to think, it wasn't too long ago that he was Tommy on "3rd Rock From The Sun."
"50/50" is the movie's title, but there shouldn't be any odds betting against you going to see it. Worth every ounce of your hard earned money.