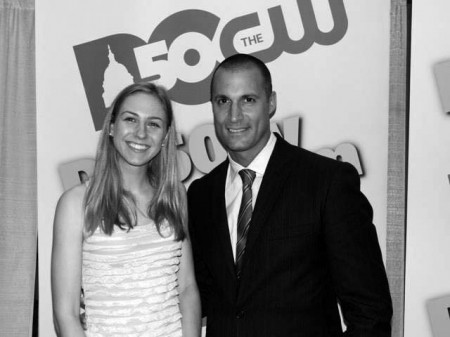 When I tried out for "America's Next Top Model," I had no idea how far I would go or what kind of connections I would make. To this day I don't even really know why I tried out. I had never seen the show before and just happened to hear about the D.C. tryouts. I told my mom about them and she encouraged me to go and give it a try — after all, it would be a fun experience. What did I have to lose?
To prepare for the tryouts, I filled out paperwork that featured a long series of questions. I printed a few photos I had lying around and included them in my application. Then I laid out my skinny jeans, a black T-shirt and my nose-bleed high heels to get ready for the next day.
When I arrived at the tryouts, I was shocked to see a line wrapping around the entire venue. There were thousands of girls waiting to try to become "America's next top model." Nevertheless, I had come all this way, so I figured I'd give it a shot.
When I finally reached the front of the line I was hurried to the stairs approaching the catwalk. I looked out in the crowd and realized everyone was waiting for me to walk down the runway. I had never done anything like this in my entire life!
How do I walk? Am I supposed to smile? What kind of questions are the judges going to ask me after they evaluate my walk? My mind was going a hundred miles an hour. I had watched some girls before me do their walk, but frankly I thought they looked rather silly strutting down the stage.
The rest was a blur. I was relieved after I did a 180 at the end of the runway and my back was to the judges, but that relief was quickly gone; I now had questions to answer.
They asked me a few questions about myself — my height, weight, my favorite thing about myself. The last question, however, caught me off guard.
"Which 'Next Top Model' do you think you are most like?" asked MTV celebrity Paul Wharton. Remember, I had never seen the show before. My heart was racin as my mind scrambled to find an answer.
"Well," I said slowly, "I don't think you've ever had a girl like me on the show before, which is why I would be a great addition."
I walked off the stage feeling a sense of relief flush over me and found my mom. We went out for hamburgers to celebrate and I didn't give "Next Top Model" another thought. Three months later I was out shopping when I received a phone call from an unfamiliar number. I figured it was a telemarketer and almost didn't answer, but curiosity got the best of me.
It turned out to be the casting director for "America's Next Top Model" congratulating me on making the top 25 of the competition and asking me to come to New York City the very next day. It was unreal; this competition was the last thing I was thinking about. To be honest, I hadn't really given it a second thought since the day I tried out. I told her I would be there and she proceeded to give me a long list of things to bring.
I arrived in New York late the next day to check into my hotel and get ready for the competition. On the train ride there I had done a little research on the show and what to expect. Nevertheless, I still felt kind of in the dark about everything.
After a very short night's sleep, I began to get ready to meet the casting director and final judges. For this casting, we were told to wear minimal makeup and form-fitting clothing. In addition, they required us to bring a swimsuit. It was much more intense and in-depth. We had to walk the runway in front of a camera many times while listening to tips from the casting director. Most of the girls were extremely pushy, trying to be the center of attention the entire time. We then walked in groups of fives and the girls would elbow each other to try to get to the front. There were girls with attitude who swung their hips back and forth while keeping a fierce look on their face, while other girls were more professional and knew how to work the runway.
I felt so out of place in the group. While we were waiting we had to fill out applications that asked personal questions including, "When is the last time you got in a fight?" "Have you ever hit someone?" and "Have you ever been in jail?"
"Never," "no" and "no." My answers were dull compared to everyone else's. One girl had a toddler with her and said she was so glad to have made it this far because her boyfriend was in jail. Another began talking about her drug and alcohol issues. I think this definitely plays a large role in the selection process for making it on "America's Next Top Model."
Although I didn't make it on the show, I have gained a lot since the experience. I have befriended Paul Wharton and been to many of his parties as well as a filming of "The Real Housewives of D.C." I've also done a little bit of modeling since my audition, and I recently had the opportunity to interview photographer Nigel Barker.
My dream was never to be a model, but this was a valuable experience I wouldn't trade for anything. I learned a lot about myself and the entertainment industry that I want to eventually break into as an entertainment reporter. The main lesson I learned from this experience, however, is that there is no harm in trying something because you'll never know how much you can accomplish unless you try.