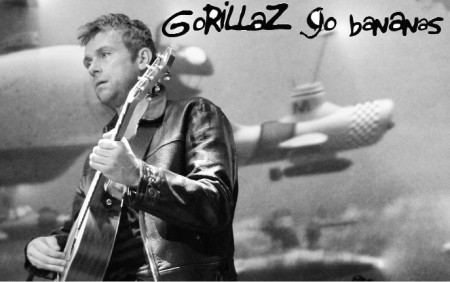 While few people think of full string and brass ensembles or Lebanese orchestras when thinking of the alternative hip-hop group Gorillaz, it's exactly what the group did. The British musical project astonished viewers on stage at the Patriot Center on Monday with energetic performances.
The bad was created in 1998 by cartoonist Jamie Hewlett and Damon Albarn, former frontman of the British alternative band Blur. To accompany the band's music Hewlett and Albarn create a cartoon "band" to use in all promotional material and music videos.
Although the cartoon has received significantly less commercial success, Albarn's musical contributions have garnered mainstream attention since their debut single "Clint Eastwood" nearly a decade ago.
The Patriot Center began filling with concertgoers as N.E.R.D. lit up the stage with a high-energy performance, featuring two drummers, dancers and a full band. Although rapper, singer and producer Pharell Williams' mic levels were a little high, his energy rocked the room and inspired people to dance with excitement.
As the openers left the stage and the Gorillaz's road crew bagan setting up, it became apparent that the show was not going to be a small scale production. As the show started, a full string ensemble sat down and a nine-piece horn section positioned itself at the front of the stage.
Over a roar of applause, a projection screen began showing a CGI cartoon of a plastic island, symbolizing the theme of their latest album "Plastic Beach."
After a virtual appearance from rapper Snoop Dogg, Gorillaz started their show with the album's first track, "Welcome to the World of the Plastic Beach."
The band focused on songs from "Plastic Beach" rather than previous albums, although certain songs from their self-titled album and 2005 release, "Demon Days," made the setlist. These included a four-song encore featuring one of the band's most succesful songs, "Feel Good, Inc."
Artists including Mos Def, De La Soul, Bobby Womack and a Syrian orchestra, many of whom were featured throughout the band's discography,  performed onstage as the evening progressed.
Gorillaz's genre-bending music and energetic performance attracted listeners of all ages. And the energy from the crowd seemed to indicate the show was a success.