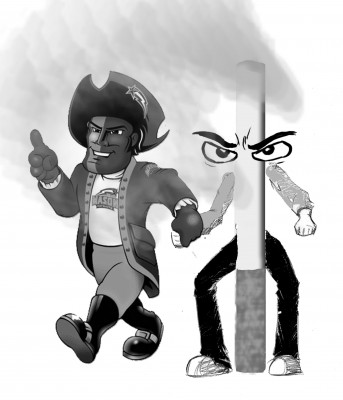 Campus-wide smoking bans are becoming popular as universities continue to realize the health problems of second-hand smoke and the environmental hazards smoking causes.
With each added complaint, the controversy over allowing smoking on campus rises.
Currently, George Mason University enforces that when smoking, students must be at least 25 feet away from all building entrances. There are no limitations or restrictions for smokers otherwise.
"I don't think [smokers] pay attention to the rule, especially outside of the [Johnson Center]," said senior finance major Muna Aburish. "I think the smokers should be respectful of the non-smokers. If they want to smoke, smoke somewhere where they won't be affecting other people."
This time last year, members of the student-run Environmental Action Group proposed a campus-wide smoking ban due to frustrations with the current university policy.
"No one was acknowledging the 25 feet rule, so they decided if smoking wasn't allowed then they wouldn't have to deal with it at all," said EAG member and sophomore conflict analysis and resolution major Ce Garrison.
However, the proposal was not effectively pursued and eventually began to lose steam. With such a controversial topic, the group felt that much of their time would be spent working to devise an amicable solution.
"I can't see it coming back up as a proposal from the EAG," Garrison said. "We're really swamped with state-wide and world-wide campaigns."
Although there would be a significant reduction in littering from cigarettes and no second-hand smoke on campus, administering such a proposal would be a long and difficult process, some students say.
"Smokers on campus have never really bothered me. I don't feel affected in any way and it just seems like it would be a huge hassle to try and enforce," said junior global affairs major Sam Schulte.
However, some students believe since an educational campus is open to the public, it must not infringe on the health of others.
"I would totally support [a smoking ban]." said sophomore biology major Laura Mowery. "I feel like it's unfair to ban it all over campus, but there should be other designated areas for smokers away from main entrances and buildings,"
So while smokers might be breathing a sigh of relief, non-smokers might just be inhaling more smoke, at least for now.