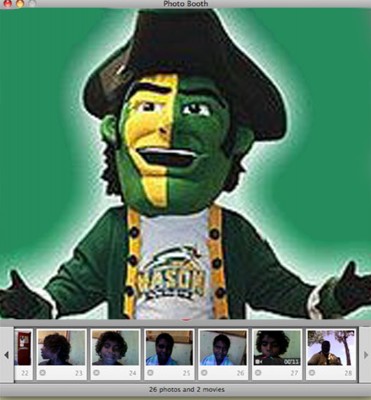 With the proliferation of technology, it's no surprise that George Mason University is in its second year of accepting video essay applications.
Dean of Admissions Andrew Flagel said the video applications were the result of prospective students who had expressed the desire to have a more personal stake in the application process.
"Many years ago Mason would interview all of our applicants," said Flagel. "Sometime around 2000 or 2001, as Mason's national reputation started to catch fire, the rate of applications got so large that it was no longer time or cost-effective to interview every applicant."
Flagel said the ubiquity of YouTube made it possible for Mason to accept video applications without having to invest in third party software.
"We picked YouTube because it's already readily available to students," Flagel said. "A YouTube channel allows you to have control over the information flow. There weren't really an advantages to building something ourselves or to hiring an external company when the tools were available for free."
During the application process, applicants are asked if they would like to submit a video application. The applications, which are typically two to three minutes in length, do not negate the need for a written essay. He said some videos have gone as long as five to seven minutes.
"I would do a video essay," said freshman theater major Reem Shalhoub. "Telling a story instead of writing is more creative. Sometimes in writing, you mean one thing but people who read it might not know what you mean. In a video you can say exactly what you mean."
Still, video might not work so well for everyone.
"I'm awkward on video," said sophomore athletic training major Allyson Nagle. "I wouldn't know what to say. It would be strange."
"There are some students that have done lengthy video essays and have written very little in the written essay," Flagel said.
"There's a perception that the video essay is a terribly important part of the application process, but the most important part of the decision is based on academic records," Flagel said. "Essays, recommendations, extra-curricular activities are what we call non-cognitive pieces of the application. They're important, but they're far less important than a student's academic record."
Flagel said there are some other universities that incorporate the video essay into the application process, though most do not.
"From our standpoint, the first year went very well," Flagel said. "It allowed us to offer an element of personalization to the process at no cost to the institution. Because it's so embedded in the process, it made it very easy for us to review those essays as part of the application review."
Flagel said student feedback has been positive.
"We received very few video applications," Flagel said, "maybe a couple hundred out of 17,000 freshman applications last year."
Flagel said the use of video in the application process will continue to grow as technology becomes more prevalent, but that there is a comfort level with the written essay for many students.
"The video essay, for the time being, is so different from what most universities are doing," Flagel said.
Selected application videos can be found at videos.masonmetro.com.