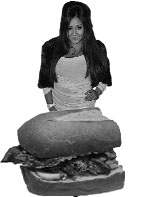 An autographed copy of Snooki's book, the chance to create and name a sandwich after yourself and hotel stays will all be up for bid when George Mason University's GBAY auction returns on March 3.
Last year, the student-run auction raised $10,500 for student scholarships by auctioning off items such as parking spaces, personal chauffeur service to and from class in the Mason Dining golf cart and the opportunity to fire the t-shirt gun at a Mason basketball game.
Departments across campus donate services or items to the list of items to be auctioned off, with all proceeds going to help students in financial need.
The auction will begin March 3 at 6 p.m. in the Johnson Center Atrium.