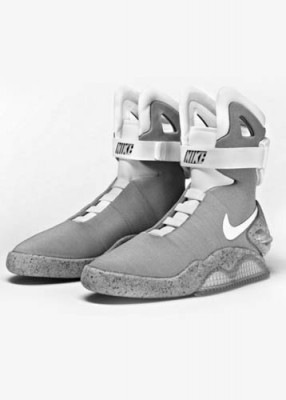 22 years ago, when "Back to the Future Part II" hit theaters , Nike designer Tinker Hatfield designed and unveiled the most famous shoe never made available to the public: the Nike Mag.
Unavailable, that is, until now.
Marty McFly's infamous kicks are now being auctioned off on eBay by Nike to raise money for The Michael J. Fox Foundation for Parkinson's Research.
Fox's role as McFly, and the unforgettable hover board scene, helped solidify the shoes as one of the most recognizable of all-time.
According to back4thefuture.com, each shoe features "electroluminescent outsole, space-age materials and a rechargeable internal battery good for 3,000 hours."
Many notable celebrities have already bought their own pairs, including San Francisco Giants closer Brian Wilson, Oklahoma City Thunder All-Star Kevin Durant, and rappers Tinie Tempah and Kid Cudi, who bought four pairs for himself.
As of Sunday night, there are only 150 pairs left, with each auction starting at $0.99, and shoes are going fast.
With the Nike Mags in the limelight, here's a list of other top rated shoes of all-time, according to kicksguide.com: