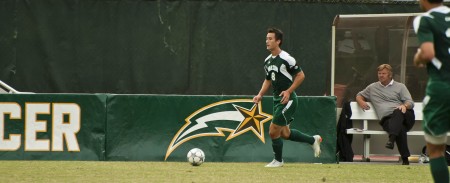 Casual newspaper readers do not see the names of defenders in the headlines of their sports section. For that matter, neither do soccer enthusiasts. But George Mason University's men's soccer coach Greg Andrulis has relied on fifth-year senior Eric Zuehsow for the most of his career.
While Draymond Washington was a forward when he came in with the Patriots and was reeled back, as were junior Paul Andrews and sophomore Alex Herrera, Zuehsow has shown off his defensive work as a long-time fixture of the Patriots defense.
That is not to say that his style of play has stayed the same.
"My first year, I was battling fitness. My second year, battling injuries," Zuehsow said. "It was, 'I'm two years into this, it's kind of tough.' I had a good summer going into my junior year and finally got things rolling again."
He found his start in the game as most college and pro players have. He started micro soccer when he was young and worked his way to playing club soccer and defending for Broad Run High School.
It was in Ashburn that he caught the eye of Andrulis and his coaching staff. When looking for colleges, he put his stock in coaching staffs and the future of his prospective teams, finding a perfect fit in Fairfax.
"Greg Andrulis had a strong pull there. Nick [Carlin-Voigt] was a great recruiter," Zuehsow said.
"Just seeing the way that Greg was changing the program, it really encouraged me to see that this was a program that was heading in the right direction, a program that really wants to be in the top-25, challenging for CAA Titles, being in the NCAA Tournament every year."
CAA soccer is incredibly competitive and although Mason missed the playoffs last year, it was a clear down year for a team that went to the NCAA tournament, dropped No. 1 Maryland two years ago and took down Richmond last year.
Needless to say, Zuehsow has seen some of the best soccer Mason had to offer over the last decade.
Last year, the Patriots couldn't keep its team healthy. Goalkeepers went down with injuries left and right, and Zuehsow was so banged up for the season he earned a redshirt. Even after injury came, quitting was not an option.
"Any thought there was quickly got discarded," Zuehsow said. "I can't really imagine giving it up."
If anything, it has just given him a more defined leadership role on the team with younger goalkeepers behind him. Between him and Washington, the veterans have set a tone for the team.
"We definitely have to take a leadership role, but it feels good anchoring the team and being in control, really seeing the field," Zuehsow said.
"Both of us are back there talking to everyone on the field. We try to dictate play, try to control the pace of the game, to calm everybody down if they get rattled."
And he has embraced that role. As a fifth-year player, he has taken every opportunity afforded to him.
While it is all too common to see a player graduate with less than a bachelor's degree, Zuehsow is working on graduate schoolwork.
"If it wasn't for soccer, I have no idea where I would be, what university I'd be at, where I'd be at in life," he said.
"Soccer has been a huge guiding factor for me. I've enjoyed it every step of the way."