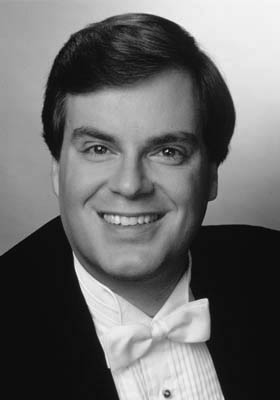 Four-time Grammy Award winner and respected lyric tenor John Aler can now add associate professor of voice at George Mason University's School of Music to his impressive repertoire.
Aler will be joining the College of Visual and Performance Arts in teaching applied voice. He will educate students in various styles of singing and aid them in developing skills for the performance of opera and musical theater pieces.
He received both a bachelor's degree and a master's degree in vocal performance from the Catholic University of America. He also attended the Julliard School in New York and studied with the late and celebrated vocal instructor Oren Brown. In addition, Aler has taught at numerous institutions including the Maryland Opera Society, Indiana University's Jacobs School of Music and Atlantic Union College.
Performances with professional institutions including the New York Philharmonic, the Cleveland and Philadelphia Orchestras and the Los Angeles Philharmonic are also notable. In Europe he accompanied such names as the Berlin Harmonic, the Leipzig Gewandhaus Orchestra and the Orchestre National de France. The Royal Opera, the Deutsche Oper Berlin, the New York City Opera, the Washington National Opera and numerous others around North America and Europe also stand out on his resume.
Aler is best known for his interpretations of pieces such as Ludwig van Beethoven's "Missa Solemnis," Johann Sebastian Bach's "St Matthew Passion," Wolfgang Amadeus Mozart's "Mass in C Minor," "The Abduction from the Seraglio" and "The School for Lovers."
Through the years Aler has been recognized for his talents by garnering numerous, prestigious awards. Among the most impressive was the Grammy Award he won for his 1993 "Best Opera Recording," by performing the role of Jupiter in George Frideric Handel's "Semele." In the same year, he also received the award for "Best Classical Album" for his work on Béla Bartok's "The Nine Splendid Stags." Previously, in 1985, he had won "Best Classical Vocal Soloist Performance" and "Best Classical Album" for his performance in Hector Berlioz's "Requiem."