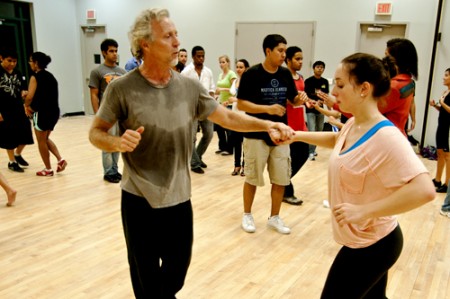 Hips swayed to a Latino beat as feet swiftly tapped the hardwood floor of the Johnson Center Studio Tuesday night.
"Right, left, right, tap, five, six, seven," a novice couple repeated in unison under their breath in an attempt to stay coordinated.
"One thing I'll tell you about Cuban salsa is that we're down!" said Jim Lepore, the club's faculty adviser, as he explained the seven basic steps of the dance. "It's low!"
Just like every other week, the Azucar George Mason University Salsa Club and its prospective members had come together for a two-hour lesson. This week, the group was learning rueda, a form of salsa that is danced in a circle and involves switching partners.
"The key to partnering is stay close to your partner and keep tight elbows," said Lepore as he demonstrated rueda with one of the more experienced female dancers.
The salsa club, now in its seventh year, allows students to come together through the medium of a social dance.
"The demographics reflect the salsa community at large," Lepore said. "There's usually a core Latino population, but that sits somewhere under 50 percent. The rest are made up of people who love dancing and they come from all different ethnicities and backgrounds."
A Sweet Start
The club originated from a set of informal salsa gatherings held by a group of students and Lepore, who currently teaches Afro-Cuban and Afro-Latino dance at Mason. The name "Azucar", the Spanish word for "sugar," was a stage expression used by Celia Cruze, a renowned performer known as the "Queen of Salsa." It was chosen as the club name by the founders to represent the "vibrance and liveliness of salsa," said Lepore, who has been with the club since its inception.
In 2005, alumnus Cesar Vence took the club to its highest point, with 60 paying members and classes being held twice a week. The group even performed at halftime during a Wizard's game at the Verizon Center.
"I would be walking across campus and run into a colleague who would say, 'Hey, I saw your salsa guys performing out in such and such place,'" Lepore said. "I'd be like, 'Really?' I didn't even know about it!"
The club's membership has declined in recent years, but Club President Christine Gonzales said she is looking to rejuvenate its visibility and possibly even form an organized Latin dance team on campus by the end of the school year.
According to Gonzales, the weekly workshops currently attract about 20-30 people. This year, the class is being taught by Stracy Diaz, a professional dancer and stuntwoman who has made numerous TV and film appearances.
"I decided in order to raise the caliber of the class we should have an instructor unlike any other Azucar has ever had," Gonzales said.
Connecting Through Dance
As the first hour of the workshop comes to a close, the studio becomes more vibrant and the dancers begin to gain swiftness.
"I don't consider myself a dancer," said senior biology major Omari Sims, who has been attending the workshops since his freshman year at Mason.
"Dancing isn't really the essence of who I am. For me, it's all about having fun and meeting people."
Christine Heintz, a junior global affairs major, was looking to connect with other salsa dancers when she came to Mason from Hawaii two years ago.
She was introduced to the dance at a restaurant where she worked in Hawaii.
"When I dance salsa I feel like I'm in my own world," said Heintz.
"For that moment, you connect with your dance partner and it's like no one else is on the dance floor but you two.
Not having any prior formal training in salsa, Heintz said attending the workshops has helped improve her styling and footwork.
Aside from the weekly workshops, Azucar members sometimes go dancing at salsa clubs in the area or even break out into dance in the JC.
"We just drop our bags and books, have a quick salsa dance, then continue on walking to our class," Heinz said. "It's a good stress reliever for us."