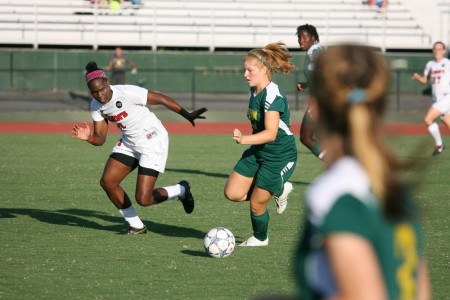 For a high school soccer player, a serious leg injury can be career ending. Scholarships can fly out the window. Offers themselves can disintegrate faster than they appeared. And if they ever recover, they may only be a shadow of their former selves.
But when Liz Hodges tore her ACL she found a vote of confidence in the head coach from just up the street. Diane Drake had been looking at the young forward since her early days at South County High School in Lorton, Va. and gave Hodges her first vote of confidence after the injury.
"She was actually at the game where I got hurt," Hodges said. "Instantly I knew I wanted to go here because she emailed me from her blackberry on her way home asking how I was doing, if I was okay."
Usually injuries like that are hard to come back from. They have ended college careers and killed professional hopes for some. Hodges wanted nothing more to get on the field, though, to play for someone who had apparently limitless confidence in her scoring power.
"Whenever I watched her play, she was always scoring goals," Drake said. "Unorthodox goals, too, that other girls couldn't get their hips around."
Little did Hodges know, Drake had her own source to see what the young forward could accomplish. Her club coach in high school was actually the former head coach at Mason in another era of women's soccer.
"Her club coach used to be the head coach here," Drake said. "We had a chat about it. He said this kid is very similar to [former Mason forward] Rachel Wiggins; she's got that same ability to hold and possess the ball."
She knew her coach was still involved in the college process, but clearly was not aware of the extent. It certainly aided the decision Drake had to make regarding the forward.
"My coach knew a lot of the college coaches, too, so he would talk to them," Hodges said. "My coach was a college coach, so I think he knew a lot about the college process."
Hodges referenced the fact that her club coach was a former college coach, but her focus was less on the means of her recruitment and more on how it prepared her for college. She is a freshman; generally there is a learning curve.
The college game is quicker, moves that worked in high school fail at the next level and old injuries often find a way to rear their ugly head. Because she is so close to her old stomping grounds, homesickness is the only thing that cannot affect her. Her learning curve did not show as much as it has for other players.
"I don't know if I wasn't confident enough or not ready, but not used to the college level," Hodges said. "Preseason helped me a lot, practicing with the girls and knowing the level of expectancy."
And she has held herself to that expectancy, not because of a team requirement, but because of a true love for the game, a love that may not have been realized until it was not fulfilled.
"Before, I didn't like running very much," Hodges said, "but after I tore my ACL and I couldn't run on it for very long, I just wanted to run and play soccer."
The injury was a learning experience for how to deal with that stress, and even in her studies, she uses it as motivation. In an era of student athletes majoring in sports management , Hodges majors in kinesiology, the study of human movement.
"I tore my ACL and I went through physical therapy," she said. "I saw what at they did and thought it would be something I was interested in. And I like science and biology and that kind of thing."
Of course there are high expectations for Hodges, but there are expectations for the whole class.
"The class is very talented, very deep, very hard-working," said Drake, who is not going to let any of them off easy. "They're no-nonsense, they're soccer junkies. They're a great recruiting class; I'm expecting a lot from them."
But Hodges has emerged as a clear leader on the field in her young career. Everyone around the team knows she will be a fixture on the stat sheet until she leaves.
"She has been even better than I expected her first year," Drake said. "I though maybe with the injury coming off, maybe her second year she's providing minutes, but no. She came in immediately, hitting her zone and finding her stuff."
The women return to action Friday night at 6 p.m., when they take on the Delaware Blue Hens at George Mason Stadium.