Over two years ago, I made a 17-hour trek from Chesapeake to Chicago, Ill. for a concert. The tickets sold out merely six minutes after they'd gone on sale and my close friend and I were lucky enough to snatch up a few in that brief window. That was the last time I saw Rise Against — until now.
Ever since that special show, they've released another album, toured with iconic bands like Bad Religion and The Foo Fighters, all the while gaining momentum in the mainstream without sacrificing what makes Rise Against what they are.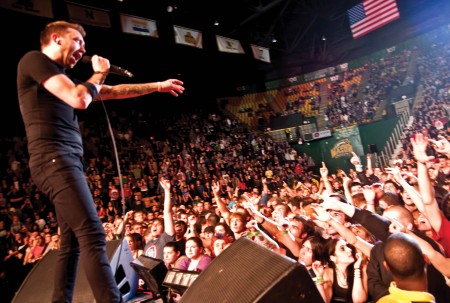 Politically charged punk rockers, vegans, embracers of straight edge — Rise Against are who they are and make no attempts to mold themselves into some ideal corporate image. For over a decade they've tackled dozens of issues through music and activism. In fact, the entire "Siren Song of the Counter Culture" album is nothing but a giant middle finger to the Bush administration.
Even more than that, they're completely transparent, never keeping a curtain between themselves and their fans. They've released multiple DVD's that give access to who the band is beyond just the music — Tim, Joe, Zach and Brandon.
It's who they are, and their dedication to never wavering and never selling out that has made them one of the most important bands in my life.
Their music kept me sane while I was on deployments overseas. Each of their albums was an anthem so representative of where I found myself in my own life at the time of its release. And each one of their live shows has given me an indescribable feeling of belonging.
While not everyone present at their shows share the band's views — as they often point out — I know that there are plenty that stand in the thick of the crowd with me, singing every line of every song with more passion than they do anything else in life because in those moments, they feel something indescribable.
And that's not even touching on the pure kinetic energy that flows through every venue they play. It's impossible not to jump, not to scream, and when they call for it, it's definitely not possible to miss out on a giant circle pit or two.
Yesterday's show was the eighth time that I've seen Rise Against live and — yes you read that right — I was more excited for this show than I have been about anything in a long time. Not because this will be the show to end all shows, I saw that one in Chicago, but because I feel like there has been a void without their shows, and perhaps last night marked the start of something new and awesome.
Everyone has something that affects him or her in a way nothing else has the capability of doing. Rise Against shows are that something for me.
After all the sing-alongs, the acoustic set and after your arm feels like rubber because lead singer Tim McIlrath has demanded that you put your fist in the air, I hope that at least one person left with their life having been changed forever.
Yeah I know that A Day to Remember and The Menzingers also played and are both amazing in their own right, but I didn't drive 17 hours to see those bands.