In eighth grade, Mendbagana Tovuujav was a skinny kid living in Mongolia.
After a scuffle with some local gang members, Tovuujav was approached by two-time world freestyle wrestling finalist Naranbaatar Bayaraa.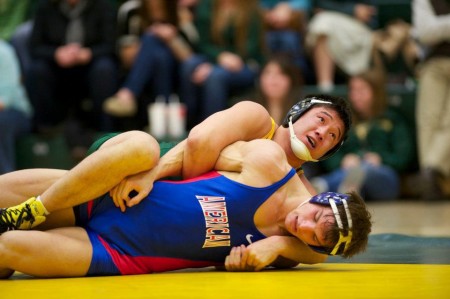 "He told me that if I thought I was tough, I should come wrestle with him instead of waste my time with street kids," Tovuujav said.
The experience changed the eighth grader's life. After training with the Mongolian wrestling team, Tovuujav was offered a full scholarship to an American prep school.
From there, he received a full scholarship to George Mason University.
Tovuujav, who's now a senior, has been a nearly unstoppable force on the Mason wrestling team.
This year he finished the regular season with a 20-3 record and went on to the NCAA Division I nationals in St. Louis, where he lost.
Tovuujav plans to move back to Mongolia after he graduates in May and try out for the 2016 Mongolian Olympic wrestling team.
"Wrestling is an individual sport," Tovuujav said. "If everyone works hard, then the team does well. I focus on improving myself."
When new coaches Joe Russell and Tommy Owen came on for the 2012 season, the team was told that it was hard to restart with new leadership.
"Coach Russ and Owen are very positive people; they always support us no matter what," Tovuujav said. "We trained hard and focused on building team unity, which really helped us this season."
Since the beginning of his wr­­estling career when he was in eighth grade, Tovuujav has been wildly successful.
He took third place in the Mongolian High School Nationals before he was even enrolled in high school. He was soon approached by the Mongolian Olympic coach.
The Olympic coach made a deal with St. Benedict's Prep, a private school in New Jersey, to send one Mongolian wrestler to live and study at the school each year.
Tovuujav was the third Mongolian student to go to St. Benedict's where he wrestled for three years.
His mother was reluctant to send the youngest of her five children off to America, but the decision was ultimately his.
While at St. Benedict's, Tovuujav roomed with Samardo Samuels, who now is a power forward and center for the Cleveland Cavaliers.
"We lived in the dormitories at school with other international students and kids who had bad grades," Tovuujav said. "It was hard to adjust. Mongolia is very different culturally — different for everything really."
When he arrived in America at 15, Tovuujav spoke no English.
He still struggles with the language, but he has managed to succeed academically and will graduate this spring.
Though three of Tovuujav's brothers and his father were all wrestlers on the Mongolian National team, no one thought he would end up wrestling himself. He credits his success on the mat to his work ethic.
"I work harder than anyone else. I train every day at practice and work on my mistakes and try to improve," Tovuujav said. "I spend weeks working on one thing until it's perfect, not everything at once."
Tovuujav was trained as a freestyle wrestler during his early years with the Mongolian National team.
"Freestyle wrestling is more professional. It's what's used in the Olympics and around the world. American wrestlers use focus style, which is something new I had to learn," Tovuujav said.
Freestyle or focus, Tovuujav's style has always been offensive. However, after a broken elbow, hurt knees and a shoulder injury his junior year, he had to adapt his style.
"I had to stand back and watch and work defensively off of others' mistakes," Tovuujav said. "It was a big change to make in one year, and it was really hard for me."
His knowledge of both styles of wrestling, along with his perspective as both an offensive and defensive wrestlerb has been an asset to the Mason wrestling team.
"He brought a different aspect of wrestling from being trained overseas," said Frankie McLaughlin IV, a senior on the wrestling team.  "Being versed in all styles and positions has helped the team grow."
Tovuujav has high hopes for the future of the Mason wrestling program.
"I believe they're going to do great the next couple years," said Tovuujav. "The team is young, and they'll end up being really successful."