Multicultural greek life is different from other sororities.
"We have cultural values and family values," said Ada sophomore business major and member of Kappa Phi Lambda at Mason. So it's a completely different vibe."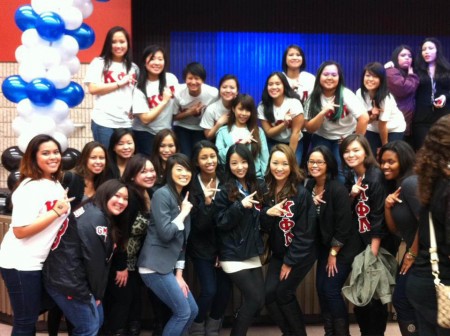 Every April, the women of Kappa Phi Lambda help to organize Asian Pacific American Heritage Month with other groups like the Asian Pacific American Coalition and the newly dubbed Office of Diversity, Inclusion and Multicultural Education.
Not an exclusively Asian sorority, many students rush because they are interested in Pan-Asian culture. The Kappa Phi Lambda colony was established at George Mason University in 2004 by two students who wanted to more actively promote awareness of Pan-Asian culture on a campus that was largely commuter-based.
Although Kappa Phi Lambda is involved in philanthropy year- round, Spark Hope falls during Asian Pacific American Heritage Month. It will benefit Horton's Kids, a nonprofit that works to provide tutoring and recreational activities for children in Washington, D.C. area. It is one of the most popular events of APAH Month.
"[It's] Very popular. They know how to get people there and how to make their event very effective," said Shaoxian Yu, the associate director of Asian Pacific American Student and American Indian Student Affairs for the Office of Diversity, Inclusion and Muticultural Education.
Spark Hope will bring student groups together on April 27 for a night of cultural performances, skits and music. This year it will focus on Asian Pacific American women's issues, Yu said. The benefit is free to the public, although donations are encouraged.
APAHM kicked off with "Check the Mike," a spoken-word slam with music, poetry and personal anecdotes. Filipino, Vietnamese and Japanese student groups hosted cultural programs earlier last week.
"We try to hold fun events, and then we try to hold cultural events as well," said Alicia Kubokowa, a sophomore engineering major, the tresurer of the Asian Pacific American Coalition and a member of Kappa Phi Lambda.
APAHM Fest, on April 28, will be both. This year it will feature nationally recognized artists as well as those from the local community. In the past they have hosted well-known YouTube personalities at Mason, according to Lillian Nguyen, the executive chair of APAC.
"It brings the whole community together," said Ada Yang.
The sorority is currently applying for a charter from Kappa Phi Lambda, Inc. They hope to have that accomplished by the end of the year.
"I'm very proud of that organization," said Yu, who is also the faculty advisor to Kappa Phi Lambda. "When they do things, they do it with quality."
For a full list of the Asian Pacific American Month programs, visit odps.gmu.edu.