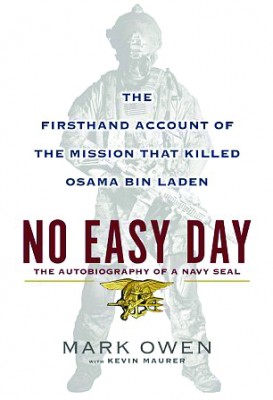 Everyone remembers exactly where they were and what they were doing on Sept. 11, 2001. But what were you doing on May 2, 2011?
Former Navy SEAL Matt Bissonnette, under the pen name Mark Owen, describes how he spent his day in detail in his new book, "No Easy Day", the firsthand account of the mission that killed Osama bin Laden.
Despite my reservations about being lost in a book that detailed the military, a topic I don't usually find myself interested in, I downloaded "No Easy Day" on Kindle.
By the end of the first chapter, I was hooked. Bissonnette is a brilliant writer and vividly captures his emotions and memories of his training as a SEAL and the missions that led to the capture and killing of bin Laden. In between chapters, I frequently stopped to remind myself that the story I was reading was a true first-person account and not a fictional account of the throes of war.
But as I continued to read, I became concerned about the content of the book and its nature. In the preface, Bissonnette stresses that he went to great lengths to avoid disclosing sensitive material and military secrets. Though it is evident that he did make an effort to protect the other SEALs that he mentions, by using only their first name and a brief description of their build and demeanor, he reveals key SEAL tactics and technology that the teams still use to hunt and capture terrorists.
As residents of Northern Virginia, we are surrounded by government workers and military, some of which are undercover and working on sensitive projects concerning our national safety. Many of my family members and friends work for various government organizations, and some have expressed disgust at "No Easy Day" and the author for his audacity to publish such a sensational and compromising tale.
The Pentagon says that the book has sensitive and classified information, and has threatened Bissonnette with legal action for publishing without turning over the manuscript to the government for approval.
In the afterword, the author shares that he plans to donate all the proceeds the book generates to charities that benefit Navy SEALS and their families, which made me feel better about spending $12.99 on a book that I have conflicting feelings about. However, The Navy Seal Foundation recently came forward and publicly declined to accept any money from the book sales in an effort to preserve their mission to support and assist SEAL families.
As I raced through the pages of "No Easy Day," I was left feeling stupefied, angry and, eventually, grateful. The sacrifice and dedication of Navy SEALS, and all of the armed men and women, is indescribable and I am forever grateful. The book is undoubtedly a very important piece of history, providing a first-person perspective on an event that brought closure to the most horrible day in American history.
However, I believe that Bissonnette should have saved his story until heavy American involvement in the war against the Taliban and Al Qaeda had faded into the history books, and all of the SEALS in Team Six had moved into retirement, even if that took decades.