The typical Mason Alum carries their Mason pride with them long after graduating. Susan Gregorash, a graduate from Mason for undergraduate studies, is able to display her Mason pride in her first grade classroom at Vega Elementary in McKinney, Texas.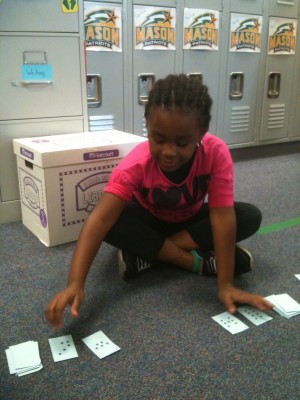 Influenced by the No Excuses University, a program built to encourage college readiness at a young age, Gregorash decorates her classroom with Mason gear to teach her young students about the importance of college education.
"My kiddos know that I attended and graduated from George Mason University. They know that you can choose what you want to be and study different things at Mason," Gregorash said, "Most importantly, they know that there are other great schools that can be found all over our country."
Vega Elementary is one of many schools across the country experimenting with such programs. The No Excuses University, founded by Damen Lopez in 2004, attempts to solve the problem of college readiness prevalent throughout the nation, primarily in poorer communities. He found that often kids in poverty do not hear about college until High School, and this often sets them up for failure when it comes to further education.
Schools must apply to be a part of the No Excuses University and participate in a workshop in order to become an official school. However, many schools, including Vega Elementary, have adopted the concept before becoming official. There are currently 148 official schools and hundreds of others in the process of applying.
The schools spread over 22 states and include approximately 9,500 students. The program has also created No Excuses Communities that encourage those not in elementary school to attend college, such as high school dropouts and parents who never attended college.
Schools participating in the program seek to create environments in which students are educated about the opportunities a college education provides at a very young age.
"The moment kids walk in the door, we are going to impact their lives in a profound way," Lopez said of the No Excuses University classrooms.
When implemented in schools, the No Excuses University program can be shaped to best fit the environment. At Vega Elementary, the entire staff has devoted themselves to making the most of the program.
"Our school faculty have dedicated themselves to setting daily goals, showing data, providing more rigorous problem solving techniques and to use every possible minute effectively. We have set higher standards for ourselves and we will meet them," Gregorash said.
Gregorash has experienced many positive results.
"Students have reacted very positively to the program.  I catch them discussing what school they want to go to every now and then.  We have some future Patriots in our classroom," Gregorash said, "Just the conversation about college alone is a huge benefit."
Across the country, Lopez has encountered similar results.
"When you look at our schools, all of our 44 No Excuses University schools in California have better results than schools across the state in similar communities," Lopez said.
These results have encouraged Lopez to set high-reaching goals for the future.
"Our loftiest goal is to create an Any U campus in the next 20 years," Lopez said. This campus would be a boarding school for foster children. This idea was inspired by the statistics that, while 100% of foster children can receive funding for college, only 3% graduate annually. "We plan to take them in, adopt them, and give them the guaranteed opportunity to succeed," Lopez said.
The No Excuses University schools also welcome college students and alumni to get involved. Schools can be "adopted" by university students and graduates in order to further enhance the students' knowledge of college education. Anyone interested can contact Lopez at damen@turnaroundschools.com.